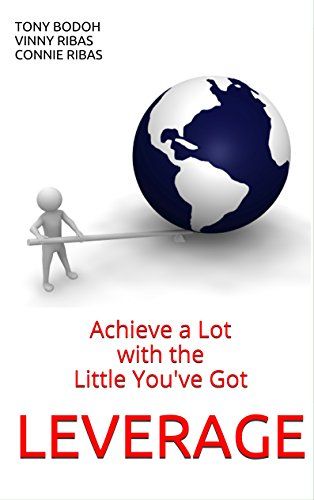 Leverage: Achieve a Lot with the Little You've Got
 After the thrill of setting a new goal wears off, one of the most common challenges people have to overcome are the feelings of being stifled or stuck. These frustrating feelings arise when the path to the goal is unclear or the resources to achieve the goal seem out of reach or even non-existent. This frustration can derail a person and cause her to be unable to move forward so it becomes impossible to build the positive momentum she requires to achieve her goal. If you've ever felt stuck, this book is for you. 
"LEVERAGE: Achieve a Lot with the Little You've Got", gives you the simple, easy-to-do steps that start you moving in the right direction. Using the tools in the book, including My Total Asset Inventory™ you'll discover how many resources you already have and how you can access virtually anything you require to achieve your goal. Then you will learn to use a simple, repeatable 10-step process to put your assets to work for you. 
The authors have used the tools in the book to help over one thousand clients ranging from small business owners and Fortune 500 executives to musicians and artists who were stuck in one way or another. These jump starts led to the momentum that fueled massive changes in their businesses and lives. Now you have access to these very same tools that some of the most successful business and creative leaders use.